While visiting Las Vegas in late January of 2019 for 1 week, I decided to research nearby hiking areas. Mary Jane Falls at Mt. Charleston came up. And so I went. 
If you're in Vegas and also into hiking, is this a place worth checking out? Well let me show you one picture (there will be more) and let you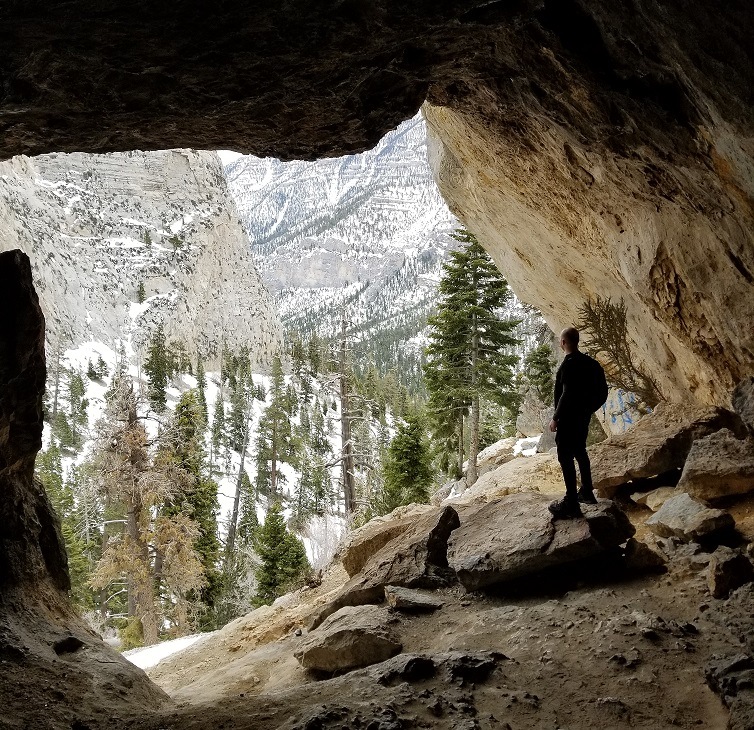 decide:
Now this picture was taken right near the actual waterfall, in a cave (I'll explain how you can get there in this article) and it is actually one of the most famous, iconic pictures of the location itself.
After visiting it, I have to say a few things:
I enjoyed the hike (it wasn't long, but it was snowy and slippery, so it did slow us down. Get some good hiking shoes if you go).
I liked the panoramic views there.
I wasn't thrilled with the actual falls, it was more of a tinkle, with hardly any water running there. It's likely because it was winter time and most of the areas were frozen.
But the scenic areas around this hike make up for the lack of an awesome waterfall.
So this is a recommended location you should check out if like us:
You are in Vegas and want to explore nature areas outside that city.
Are tight on time. We rented a car, did this hike early in the morning and returned in the afternoon.
Aren't really interested in crazy hikes, but just want something that is scenic and short (this one is about 3 miles long).
Everything about Mary Jane Falls in Mt. Charleston explained (before you go):
This location is about an hour drive west from Las Vegas. You will also pass a pretty cool looking park along the way called Red Rock Canyon, which is a good plan B place to visit that has it's own beautiful, landscape, but it's more of a classic dessert look, while the area near Mount Charleston is mixed with green nature areas and dessert.  
Mt. Charleston is part of the Spring Mountains area. Here is the location for that spot if you wish to go there:
There's also great reviews and tips from this popular hiking site on this location.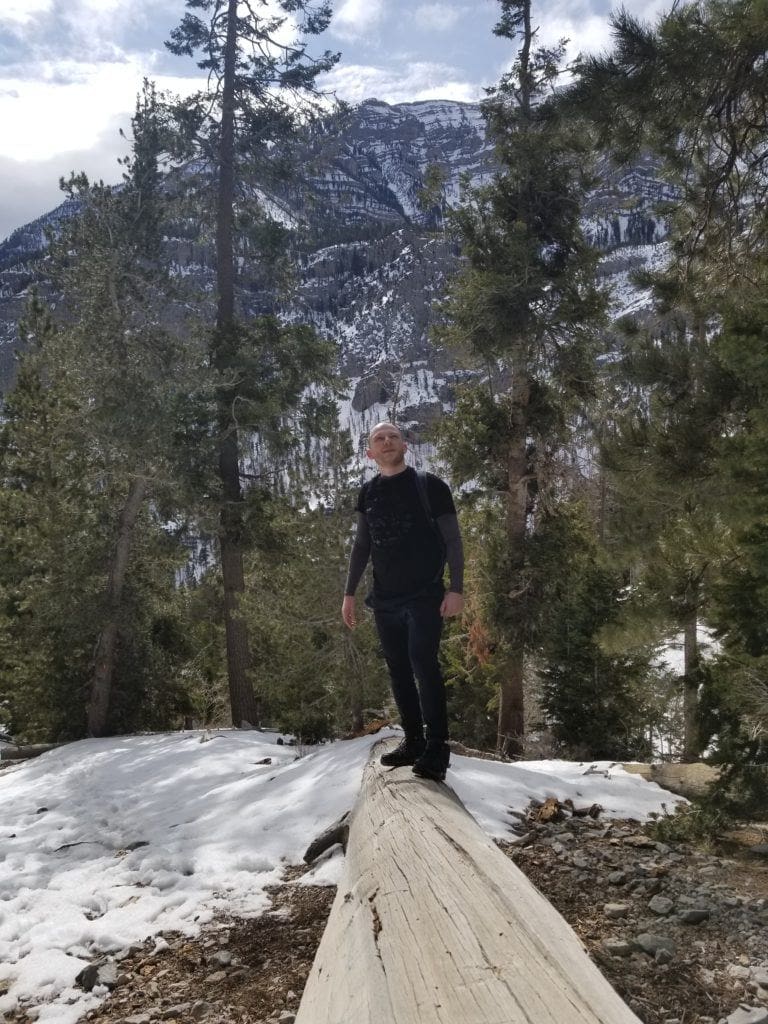 The trail to Mary Jane Falls is in a place called Kyle Canyon (the same canyon you see in the photo above).
And the views there are amazing:
Now when you hike to Mary Jane Falls, it is not on the actual hike to Mt. Charleston itself, it's just one of the many hikes there (one of the easier ones and if you want to get to the mountain itself, you will need to follow a different trail).
Getting to the actual location is not difficult, and once you get to the trail head, just stay to the right of it, until the trail start going up. If you want directions, it's actually pretty simple to get to the trail head:
Just use this map listing to get to the parking area, then look for the signs to the trail head, and then just follow it.
Considering you walk pretty quickly, the hike can be completed within a few hours.
It took us a little longer to do it due to the snow, which made walking and hiking more difficult, and it also covered the trails themselves, so we had to use some common sense to figure out the way.
There is a map near the trail head, so take a picture of it with your phone and refer to it if you need to.
Once at the top, here's how "spectacular" it looks:
Yeah I wasn't kidding about that "tinkle waterfall". It was so underwhelming, but at least the hike was fun 🙂
Now if you wish to see the cave area…
Then it's really close. This spot is the one which is where you see the iconic photo I was talking about (and the one I took).
In order to reach that cave area, you first have to hike up to the waterfall itself. Once there, you have to turn left and you will be able to see it. It's literally a few minutes away. There's a very small trail that leads by it, so you have to look up and to the right to spot it (we actually missed it the first time because we didn't look up). Just be careful as that area is pretty steep.
Like I said the hike was very enjoyable (I went with 2 other people). Once it starts going up, it can get pretty steep, and the snow didn't make that easier so going there during none snowy seasons is recommended. Overall, we had a short, but great time there.
We really wanted to go to Zion instead:
The year before this hike took place, one of the same buddies I went on this hike with, went with me to Zion National Park and we REALLY wanted to go there this year.
Unfortunately, time and distance (it's a 3 hour drive from Vegas) constraints made us have to choose other locations and this isn't to trash Mt.Charleston but after seeing both spots, we prefer Zion and will be visiting it again next year.
You may have heard about Zion if you've been to Vegas or just in general, but it is really one of the most beautiful parks I've ever visited and I am anxiously awaiting the next chance I get to visit it.
Here's some pictures from that park in one of it's most iconic trails, the Narrows.
The trip that followed…
After my Vegas trip was done, I went on an amazing trip west to the coast of the United States. And that is honestly where I saw the most beautiful scenic areas ever in my life.
Looking back at all the things I saw, Mt.Charleston and Mary Jane falls were fun, but next time, if I'm constrained on time, I'll probably visit Red Rock Canyon instead. I didn't really anything on this hike that made me want to come back.
I'm just not too enthusiastic about visiting this spot again, but once more, I do have to say that if the circumstances fit you as they did us (time constraints and needing to hike somewhere close to Vegas), then this spot is worth checking out for a short hike (or hikes if you wish to stay a few days, there are places to stay there).
But as for the other places I visited on the west coast after? Oh my goodness, I'm already scheming for the next road trip there again.