Finger Lakes has some of the best waterfalls you'll find in New York State and in this post, I'd like to share what I consider to be the 11 best ones worth exploring if you decide to go there.
This list is in no particular order, and the Finger Lakes region is so huge that there's way more than just 11 waterfalls to explore, but it is going to give you a good idea of what you can find in this amazing part of New York State.
Here are the 11 best waterfalls you'll find in Finger Lakes:
Hector Falls.
Triphammer Falls.
Glenora Falls.
Shequaga Falls.
Taughannock Falls.
Rainbow Falls.
Ithaca Falls.
Robert H. Treman waterfalls.
Wells Falls.
Buttermilk Falls.
Cascadilla Gorge waterfall.
All of these waterfalls are found in the Finger Lakes area of New York, particularly Seneca Lake and Ithaca, so the good news is that if you're visiting Finger Lakes for one day, you can probably see most of them. Here's info on each waterfall:
1) Hector Falls: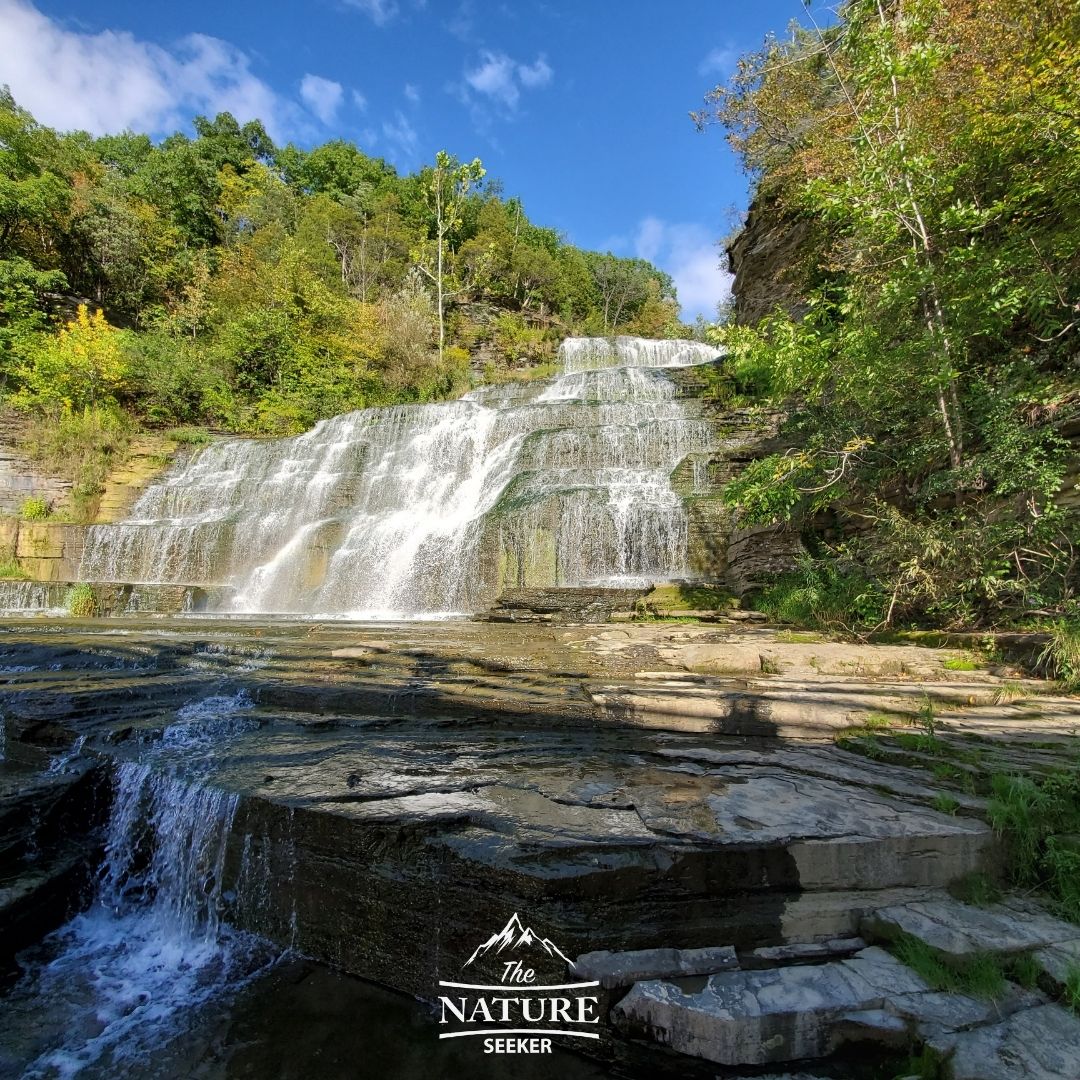 You'll find Hector Falls on the southern end of Seneca Lake in Finger Lakes. It is a beautiful (off the road) waterfall that is hard to miss and you can also hike down to it.
The first time I visited Finger Lakes on my Appalachian Mountains road trip, I accidentally stumbled onto this beautiful waterfall.
When you visit it, you'll find it continues on and on and enters into Seneca Lake and if you want to truly see how big it is (over 200 feet), then you can do so on the opposite end of Seneca Lake, for which there is a nice overlook available for.
2) Triphammer Falls:
This is a dam, man made waterfall, but because of the way it looks, flows and is available to explore, it is highly recommended to tourists. It's about 100 feet in width, and while the size of the falls isn't as large as some of the other ones on this list, it's still a beautiful sight to check out, especially in the fall (as is all of Finger Lakes for that matter).
3) Glenora Falls:
Glenora Falls is one of the few waterfalls that's located inside one of the towns you can cross on Seneca Lake. It's a little bit north of Hector Falls (but on the opposite end of Seneca Lake). A lot of tourists and locals do parties there and for obvious reasons.
4) Shequaga Falls: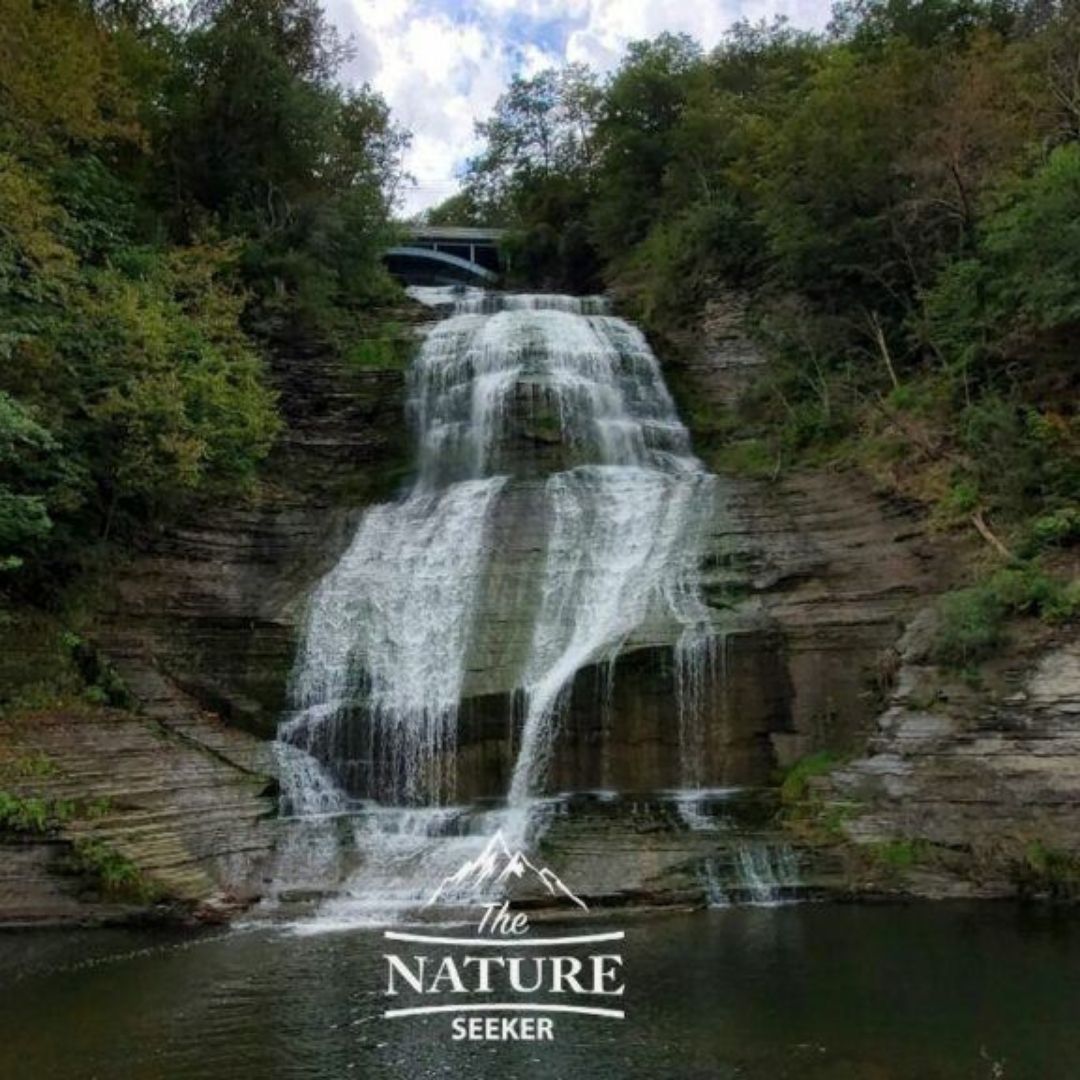 Shequga Falls happens to be another "in town" waterfall you'll find in a place called Montour Falls (ironically, there's no waterfall by that name there, it's just a town). When I traveled for one day in Finger Lakes, I accidentally saw it and it's almost the same size as Glenora Falls.
If you have time, there's another waterfall a few minutes away called "Aunt Sarah's Falls" there too. It's also huge, but in a much less populated part of Montour.
5) Taughannock Falls:
Taughannock Falls is pretty amazing and there's gorges, hikes, and large parking lots available around this area where you can go and explore the region. I only visited this waterfall once, but being that I am signed up for newsletters and Facebook groups which talk about waterfalls in New York, I can tell you that this one comes up quite often. This is a great and truly beautiful falls to explore in Finger Lakes.
6) Rainbow Falls (gorge waterfall):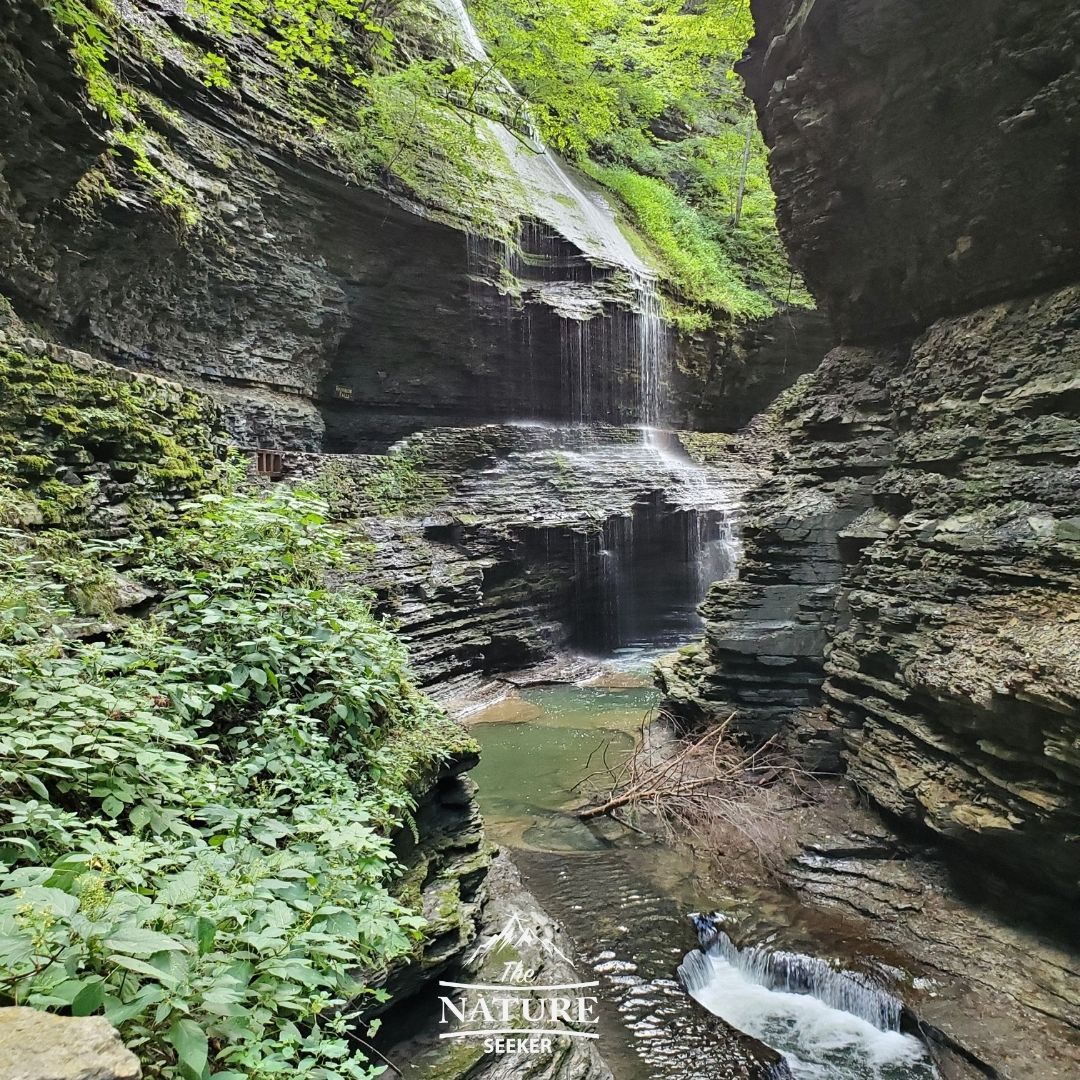 Rainbow Falls itself isn't very impressive, but what makes it get on my list at least is that it's located inside one of the most beautiful spots I've ever seen in my life, and that is Watkins Glen State Park.
Not only that, this is a gorge waterfall and you can walk underneath it. Just as well, there's other falls right by it, making the whole look of Rainbow Falls just something that looks like a fantasy and you would honestly need to go there yourself to see what I mean.
7) Ithaca Falls: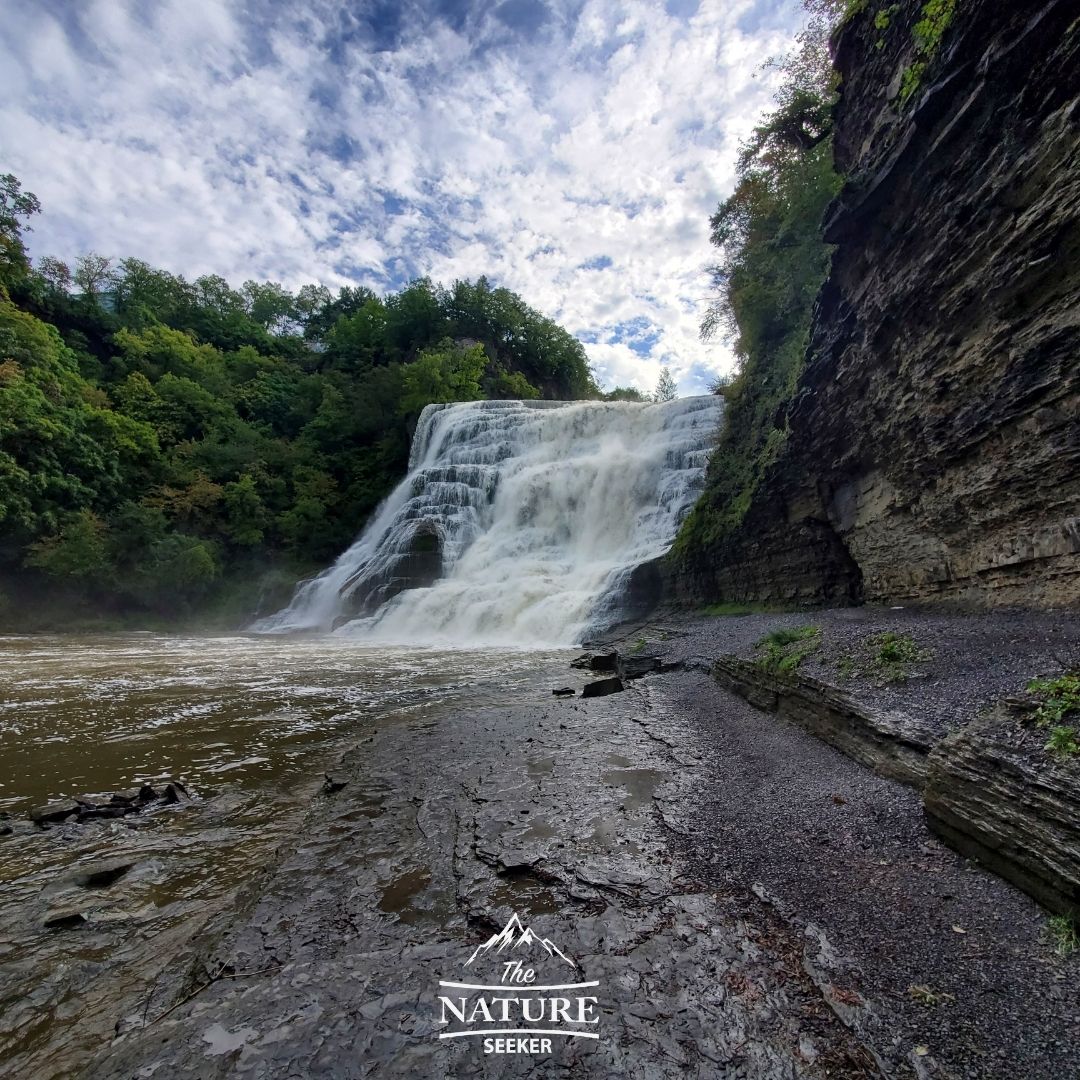 As far as I know, Ithaca Falls is the largest waterfall you'll find in all of Finger Lakes (if you want to see bigger ones, see these waterfalls in the Catskills or this list of waterfalls in New York State).
Either way, this waterfall is very impressive, and also very easy to reach.
8) Robert H. Treman waterfalls:
Robert H. Treman is an amazing park where you can hike a gorge (about 3 miles one way) and explore different waterfalls on the path. I've included this region as the name vs the waterfalls to see there because there are so many, of all sizes to that you can check out.
9) Wells Falls: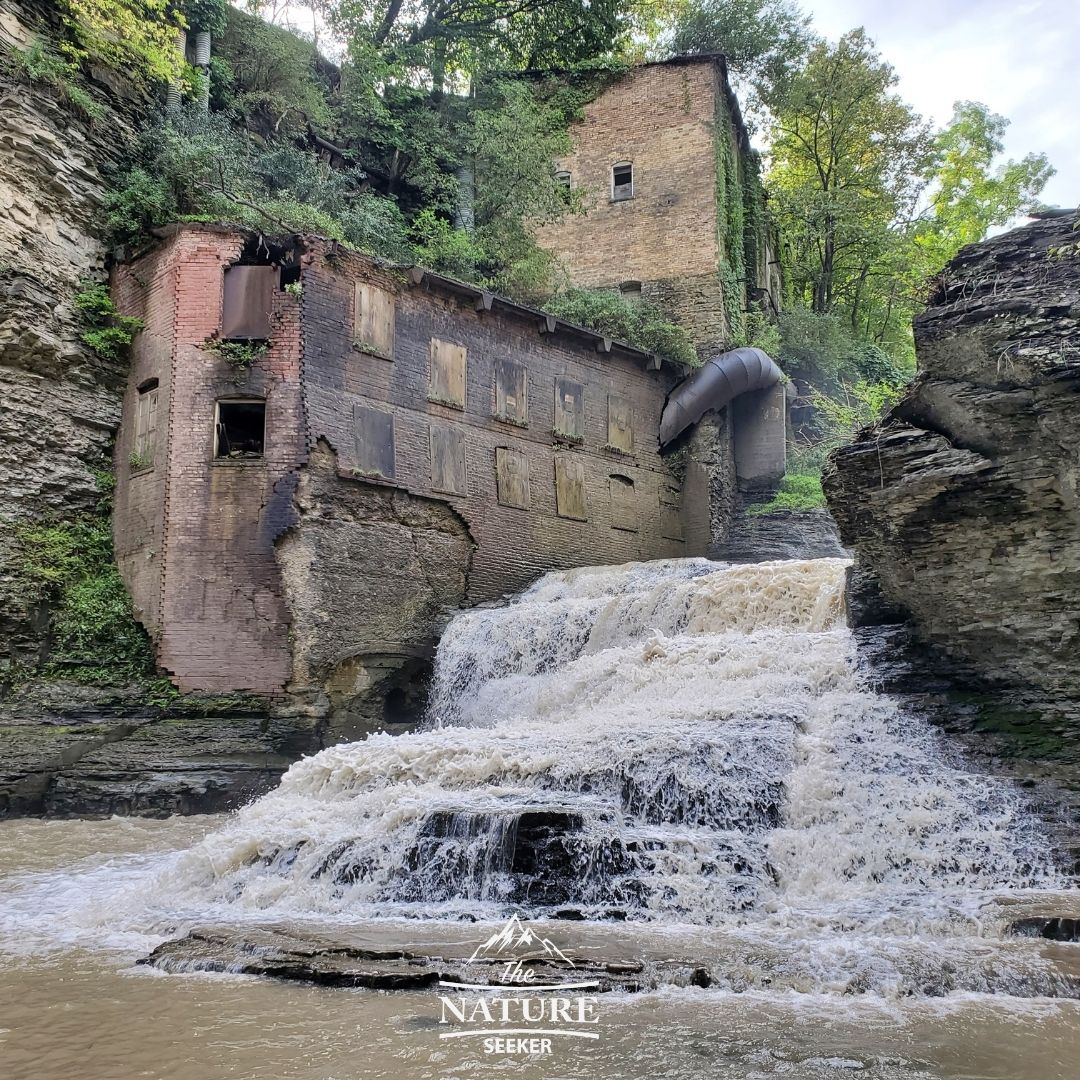 I believe Wells Falls might be another dam waterfall, but whether or not it is, doesn't change the fact that this is one truly stunning waterfall I highly recommend you check out in Finger Lakes. In my opinion, it's one of the best there is in the region.
It's also right by a gorge, and has a hike you can take down to it's base.
10) Buttermilk Falls: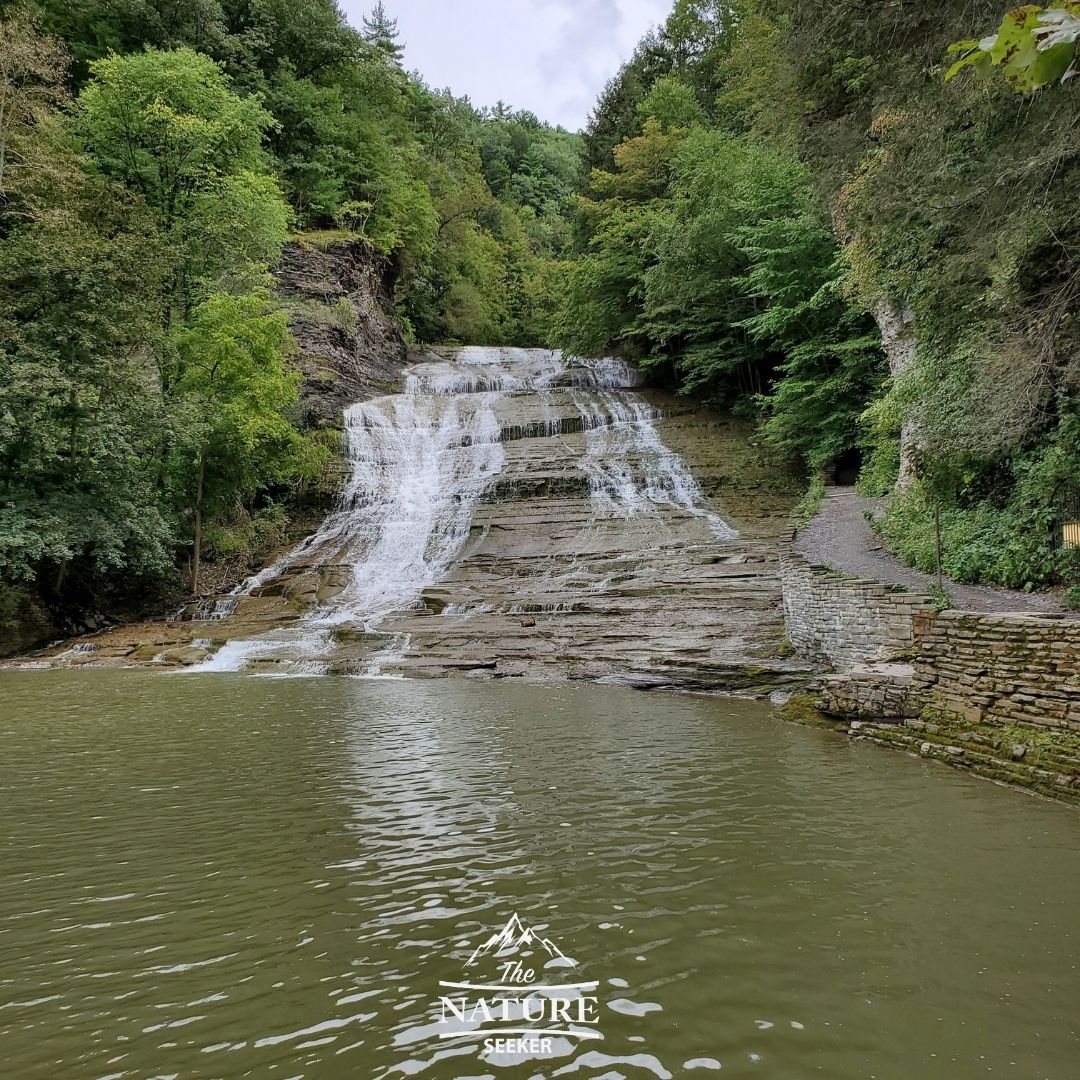 Buttermilk Falls is the premier waterfall you'll find in Buttermilk Falls State Park (also in Finger Lakes) and in addition to this 200+ foot cascading falls to enjoy (and even swim by), you can explore the gorge trail above it and see more beautiful waterfalls and sights.
I did a hike there recently and I loved it.
11) Cascadilla Gorge waterfall:
I wish I was able to explore this region when I was in Finger Lakes, but next time I go, this will be on my list. Cascadilla Gorge is a beautiful area, like Buttermilk Falls with a gorge trail, beautiful waterfalls and bridges which you can underneath and get great views of the nature area there. And of course, the main waterfall (Cascadilla waterfall) is well worth seeing.
Finger Lakes has much more than just waterfalls:
While the waterfalls in this area are stunning, the true beauty of Finger Lakes is everything put together: The nature, the towns, the region itself, the giant lakes and much more. If you do go, I would strongly recommend enjoying all of this vs just hopping between one waterfall and another.
And if you're an avid Finger Lakes traveler and wouldn't mind sharing other waterfalls to check out in the region, I'm always open to new suggestions to add to my list 🙂