What is The Best Mavic 2 Pro Case? I Love This One
One of my most used drones is the Mavic 2 Pro and a number of years ago, before heading out for a major road trip, I decided to invest in a case that was small enough to fit into my hiking backpack, but also good enough to protect my drone.
I found it in the case I'll be sharing with you today, which to me at least, is the best one for the Mavic 2 drone lineup and that is:
The Polar Pro Minimalist case for the Mavic 2 Pro. Why I think it's the best:
Anyone who knows anything about the Polar Pro company knows that it primary makes lenses and gear for cameras and in regards to drones, they are most known for making ND filters.
But to my surprise after going over to Best Buy a few days before my first big trip across the Pacific Northwest, I asked what selections they had for Mavic 2 carrying cases, and the Polar Pro Minimalist case came up.
I looked at it and couldn't believe how small it was and yet, it seemed like a perfect fit, not just for my Mavic 2 Pro, but also for the specific qualifications I had.
Basic info on the Polar Pro Minimalist case for the Mavic 2 Pro:
Company:
Polar Pro.
Price:
$20-$30.
Do I recommend it?
100% yes and I'll give you 5 reasons shortly on why.
My rating for the Polar Pro Minimalist carrying case: 5 out of 5.
5 reasons why the Polar Pro Minimalist case is the best Mavic 2 Pro case for you:
1) If you're a hiker who loves making drone footage, this case is for you (extremely portable):
In the many years I've done hikes and carried drones, they were typically in larger cases which while offering me good protection were a pain to carry. I couldn't fit them into my general hiking backpack and ended up having to use one of my hands to carry the case (and the backpack on my back to boot).
And this limited my movement in hikes and forced me to be a bit more careful with how I moved. It wasn't a deal breaker, but it wasn't a comfortable experience either.
With this Mavic 2 case, I am easily able to fit it into my backpack and have full range of motion when I go hiking.
I typically store this case in my Outdoor Products hydration backpack and considering how small that backpack is, it's hard to believe it can store an entire Mavic 2 Pro case, but it really does (and still has plenty of other room for other items).
Here is a video of me flying the drone on the Oregon Coast (at Natural Bridges). You won't see it, but the backpack I am carrying, the case is inside it:
2) It's a very simple, but protective and effective case for the Mavic 2:
Because I've had a number of cases for other drones, including a previous one I had for my Mavic 2 Pro, I appreciate this one above all others and it's not because of anything special.
In fact, this one is so much more simpler to use and store my drone in that the simplicity and the reliability it has makes me appreciate it greatly.
For other cases I've owned and used, it typically took me more time and effort to store my drones and other things, and use more caution. With this one, I find that taking it out of my backpack, taking the drone out and putting it back in is such a quick and effortless process that this itself makes it worthwhile.
3) It's extremely compact which to me is perfect: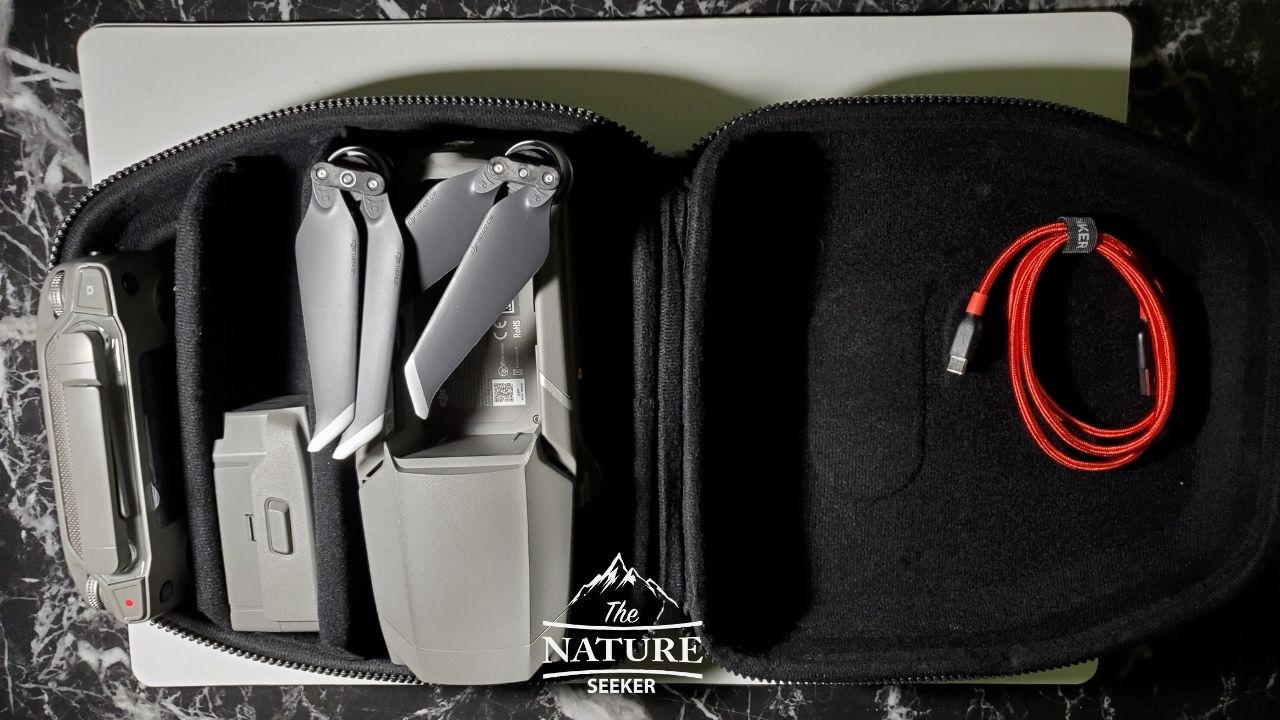 It easily fits the drone, up to 3 batteries and the remote. That's really all the space available (and all you need really). I've seen cases double that size which also hold the same amount of items for the Mavic 2 and weigh more.
4) The protection offered is also awesome.
I'm not going to deny that hard cases for the Mavic 2 offer great protection, but this "soft case" from Polar Pro is far from a pushover. I've used it for at least 2 years now and it's been carried and housed in my backpack and in my arms while I hiked through:
The dessert.
Rainy hikes.
Soggy hikes.
And other weather environments and the Polar Pro case gives my drone awesome protection.
Is it waterproof? Well it can definitely stop a little rain (as I found out on a Catskill hike once) and it certainly does a great job keeping dust out on desert hikes I've done but I certainly wouldn't drop this case into the water and see how it does.
But I've easily put this case down on wet rocks and sand, taken the Mavic 2 out of it, flown it around and put it back in and not a single drop or grain of sand got in and certainly not when I was carrying it in my hand either.
5) The reviews for this Mavic 2 case are very high (it's even sold out in places):
1) First we have the Best Buy site which has nearly 30 reviews for this case and a rating of nearly 5 stars across the board. See them here.
2) Next we have Amazon which almost 100 ratings for it too, and at a 4.5 average rating. See them here.
I'll leave the links to get this same case, but keep in mind, there's a good chance it could be sold out so at best (or worst), you may want to head over to a nearby Best Buy and see if they have it there if you can't get it through one of the links in this post.
Conclusions on the Polar Pro Mavic 2 Pro Minimalist case:
The above reviews tell the same story I am about this case which is: It's awesome.
Is it the best? Well that's subjective, but to me, being that I've tried other drone cases and one other one for my Mavic 2 Pro prior to this one, to me it is!
There's a strange irony to the many cases you find for portable drones which is: Some of them are so huge that you can take a portable drone but through the case, make it feel like you're holding a Phantom 4 case (not portable) and so to me, using those more traditional cases kinds of defeats the whole goal of using a portable drone.
This particular case is so portable and does the job it needs to do (in protecting the drone, among other things) and so with that, I highly recommend getting it (this Minimalist case is also available for other drones like the original Mavic and probably the new Mavic Air 2s drone as well).