In late September of last year, I got the chance to explore much of western Canada for 7 days in what could only be described as an epic road trip. And with the numerous others I've taken, this was truly something else. 
So if you're reading this and considering doing your own road trip through western Canada as well, I hope my trip will help you plan yours, because there is so much unique beauty to see in this part of Canada that is difficult to describe, but the photos and locations I found during these 7 days will do a good job of that!
Here's a little taste of what I saw on my road trip through Western Canada:
This place is called Lake Moraine and if you're looking at this photo and thinking "WOW", I promise you, there's A LOT more photos and spots like these that I will share with you.
But it isn't just photos:
My goal with this article is to show you where exactly these heavenly destinations are in Western Canada, so you can go and visit them too so be ready to take down notes and create your own "to see list".
While my trip was "only" 7 days, if you've read about my of my previous road trips, you'd see 2 things are common:
They usually last no more than 7 days.

No matter how short they are, I always manage to cover a ton of ground and see a ton of stuff.
In the 7 days that this trip was happening, we saw the following places:
1) Oregon and a few of the beautiful nature spots there like Columbia River Gorge.
2) Washington and specifically a little bit of Olympic National Park.
3) Vancouver Island, where we saw some truly spectacular places too.
4) And then there's places in British Columbia and Alberta (Canadian Rockies), all of which are part of Western Canada, where the bulk of the road trip took place.
All in all, the trip was around 1,700 miles long.
Here is an itinerary of how our road trip across Western Canada went: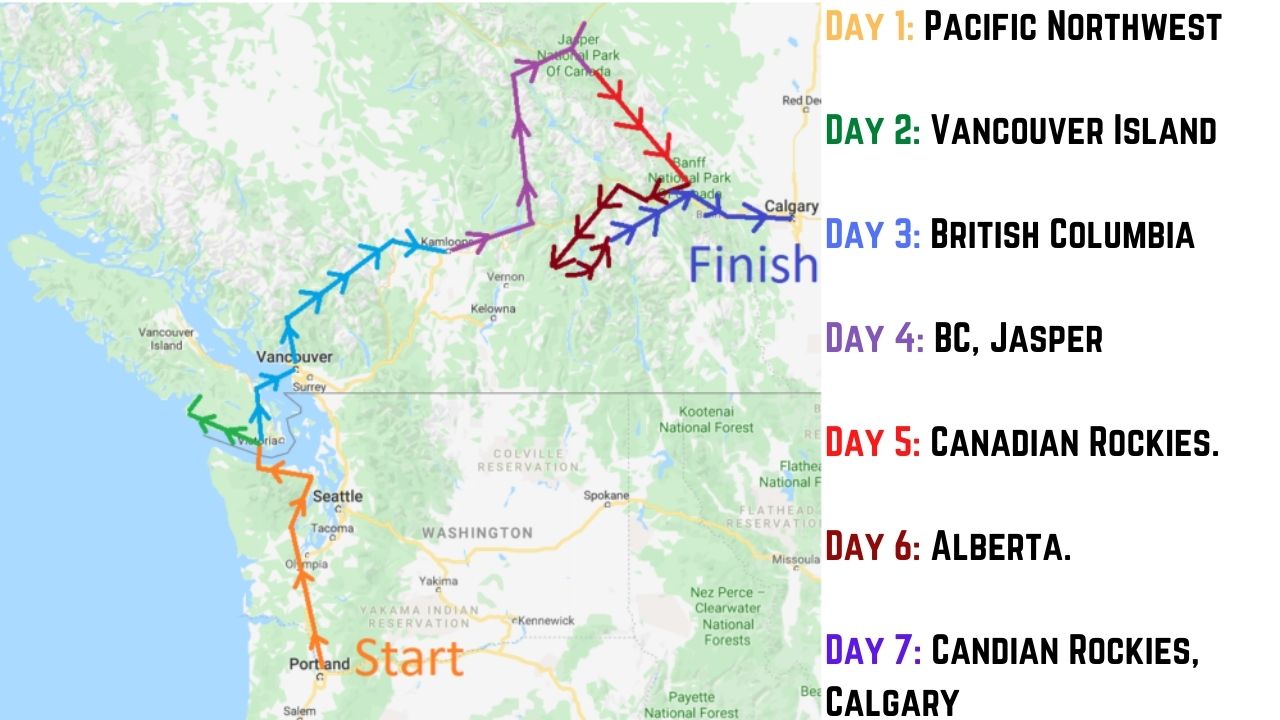 I'll be going over each day's details shortly, but this part just summarizes the major places we saw each day. Right after, I will be detailing each, the epic photos we took and the locations we saw so you can start your list too!
Day 1:
Visited Columbia River Gorge and saw Multonomah Falls in Oregon.

Briefly visited Olympic National Park (eastern part of it).

Took the Ferry from Port Angeles from Washington to Vancouver Island. 

Stayed at a friend's house in Victoria, BC.
Day 2:
Day 3:
Left Vancouver Island and took the Ferry to Vancouver (city).

Revisited Stanley Park and Whytecliff Park.

Saw one of the most amazing waterfalls ever (Shannon Falls, which is over 1,000 feet high!).

Visited the town of Whistler.

Drove through most of the night into Kamloops City.
Day 4: 
Entered into the Canadian Rockies, and into Jasper.

Saw many beautiful spots in Jasper (stick around for the photos, they're seriously epic).

Stayed the night in Jasper.
Day 5:
Made our way south to Banff and saw many more beautiful sights along the way.

Saw the famous Lake Louise and Lake Morraine.
Had dinner in a restaurant that was once a train station (amazing food).
Stayed the night near Lake Louise.
Day 6:
Visited Emerald Lake.
Drove south west from Banff into Glacier National Park (in Canada, and there's also another in the U.S, but we didn't go there).
Explored a few spots in Glacier National Park, before turning back and making our way to Banff.
Day 7:
Returned to Lake Louise again.
Headed south EAST this time, and visited Johnston Canyon (amazing sights).
Hit a snowstorm on our way to Calgary.
Safely made it to Calgary and spent the night at a nice hotel (saw Ad Astra, the movie).
Day 8 (this is already post road trip):
Explored a bit of Calgary before making our way to the airport to fly home to New York.
Now for the details each day, and the amazing adventures we had in Western Canada:
Our trip started in Oregon, specifically Portland, a place I visited in on a Pacific Northwest road trip I did earlier in 2019, which itself was also VERY epic.
Now we began in the western part of the United States and not Canada, because the end of my last trip involved me leaving out of Seattle with a 12 hour delay in my flight due to crazy snowstorms. This massive delay made the airline company (Jetblue) hand everyone a $350 credit (thank you Jetblue!) which I used to pay for my friend's and my flight for THIS trip, and the best deal was in Portland.
And since my goal was to reach Vancouver Island, part of Western Canada, and that it was only about 5 hours away from Portland, we figured, we could use the extra day to explore more of Oregon and Washington before heading up to Canada. And so, this is where day 1 begins.
Day 1: Oregon, Washington and Vancouver Island.
As our flight to Portland came in very late, we stayed at a nearby hotel, woke up early and began the road trip north.
Our first major nature destination was a spot I had visited before on my previous road trip, which was Columbia River Gorge and the many beautiful spots there.
Since we were tight on time, I figured the best place to see in the gorge was Multnomah falls, which is over 600 feet high.
I had seen this same waterfall earlier in 2019, but because it was still winter time, the landscape looked very different (very beautiful too). 
There were other hikes and nearby things to see in Columbia River Gorge, most importantly Oneata Gorge, but sadly, it was still closed due to a fire that happened years ago.
This is a destination I recommend you check out once it reopens because it looks like the Narrows from Zion National Park. I am VERY eager to check it out.
Anyway, aside from this, if you're into restaurants, there is one literally by Multnomah Falls which has a beautiful view of the falls itself and pretty good food.
We took the food with us as we had to continue our trip. but overall, this location and Columbia River Gorge is a spot I'll return to many times in the future, and it's a location I also recommend you put on your list.
Here is a picture of the landscape of Columbia River Gorge: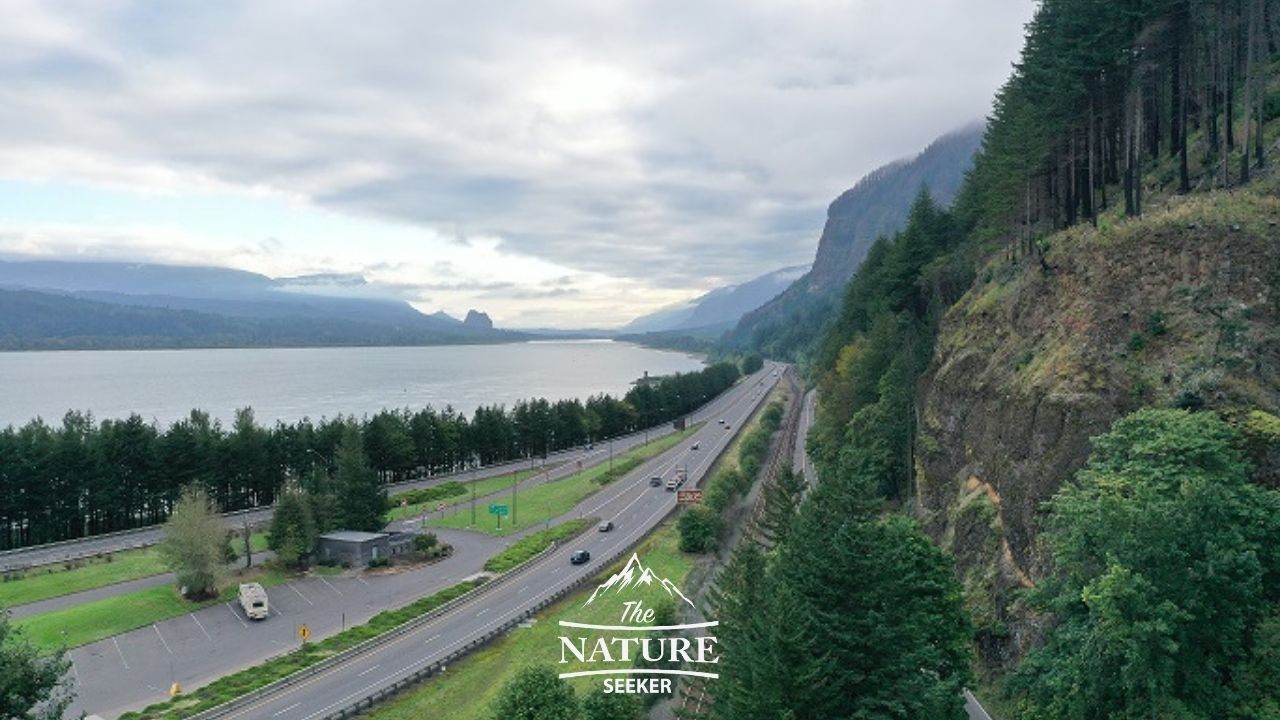 After exiting this location, we headed north and considered checking out Walupt Creek Falls, a "hidden waterfall" that there is no trail to, but due to it being too far out of our path, elected to continue north.
I will be exploring this falls in the near future and WILL detail it and I promise you that it may be one of the most epic waterfalls you'll ever see.
Anyway, as we continued north, we ended up hitting Washington State, but from the eastern end, one that I did not explore much on my previous road trip, since I was mostly in the south western side of it.
We considered checking out High Steel Bridge, a great alternative location to Vance Creek Bridge, but again, time constraints made us continue north.

But we wanted to get at least ONE major beautiful spot under our belt and so we decided to do that in Olympic National Park. While we basically crossed the outside of (on the eastern end), we did do one small hike to see some good views.
One of those views was at a place called Falls View:
It is actually a fairly simple yet nice hike down to the base of the falls and while it's not a grand looking waterfall, the whole scenery around this area is what makes it beautiful, as does the fact that this whole region is considered a rain forest.
After this hike was completed (which took about an hour), we went back to our car and continued north, then shifted west to hit Port Angeles as we had a 4:20 pm ferry to catch.
We arrived about 50 minutes early and decided to use that extra time to explore a little bit more of Olympic National Park, which was only 5 minutes away.
Here is one of the spots we found in Olympic National Park: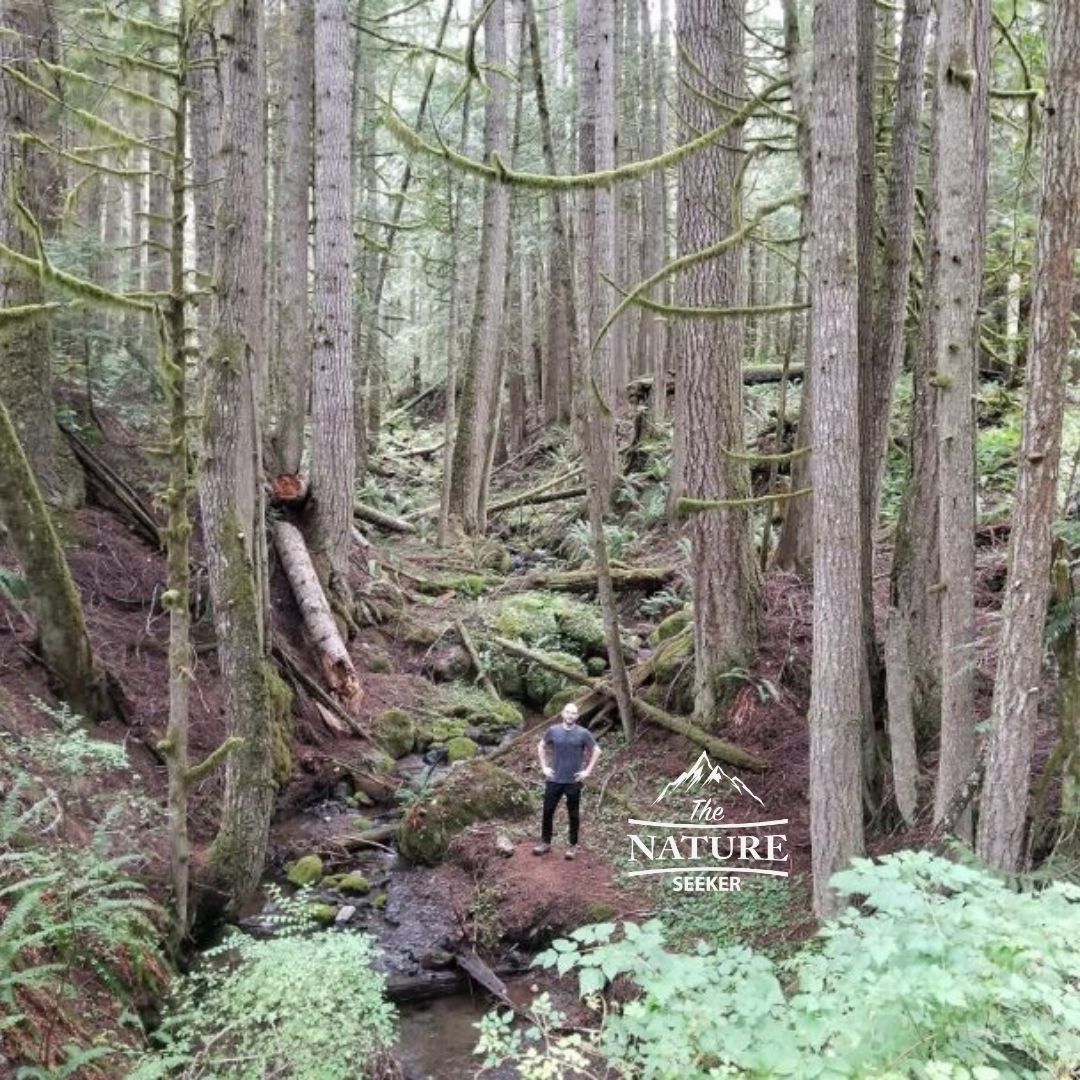 I'll tell you something, I have never been to a place like this in my life and I have been making plans to return to get a deeper look at Olympic National Park since.
But with the time to get to the ferry closing in, it was time to bid Washington and the US a temporary goodbye and head to Canada, specifically Vancouver Island.
We boarded the Ferry and the trip was only about 1 and half hours.
This ferry ride was actually quite enjoyable, especially if you compare it to the Ferry ride I took in the eastern United States on my eastern Canada coast road trip to New Foundland, specifically Gros Morne National Park, which lasted 7 hours through the night and was not comfortable at all.
Upon landing, we toured Victoria a little bit, which I assume is the capital of Vancouver Island.
Either way, if you're into touring cities, this is one of the few places (I generally don't like cities) I recommend. It is beautiful there and that's all I'm going to say about that.
We continued to end the night at my friend's place, who is a business buddy of mine at a company I work for.
The company's name is Wealthy Affiliate and it thanks to working with this company that I am even able to afford these kinds of road trips.
Here is a picture of myself with some of the guys from the Wealthy Affiliate program (they taught me how to travel blog and make money from it):
I won't get into too many details, but:
This program is basically fully online and teaches people blogging and how to make a living from it. In fact, this travel blog I am running is doing that and you can find out how to build a successful travel blog here.
As for details on Wealthy Affiliate and how I use their program to fund my travels, click here.
We had an awesome night with my friends and it was a really great way to start our trip in Canada. The guys, the scenery and the experience was very welcoming and it really stayed with me even after I left Canada several days later.
Day 2: Exploring Vancouver Island and it's gems.
We woke up VERY early because we wanted to explore as much of Vancouver Island as possible. We began by checking out the nearest location recommended to us by my buddy which was Gold Stream park and the waterfall/trestle in the area.
When we got there, we were VERY impressed with what we saw! 
For starters, there was nobody there this early and the waterfall, which is called Niagara falls ironically was right near the parking area:
We were also additionally fortunate because there wasn't much water in the area.
I've seen videos of this place and sometimes the riverbed I'm on in the photo is completely submerged, and because it wasn't in this case, we were able to get right next to the waterfall.
And I'll tell you what, just like with Olympic National Park, that clean air and freshness that we experienced in this park was truly wondrous.
One additional cool thing about this park, besides the hikes, and other spots to see is that if you follow the river from the waterfall downstream, about 100 feet away is a funnel through which the river will flow through, but again, because there wasn't much water in the area, we could actually go into the tunnel.
And right above the actual waterfall is a trail that takes you to the top of the mountain, where you'll find an abandoned trestle. Here it is: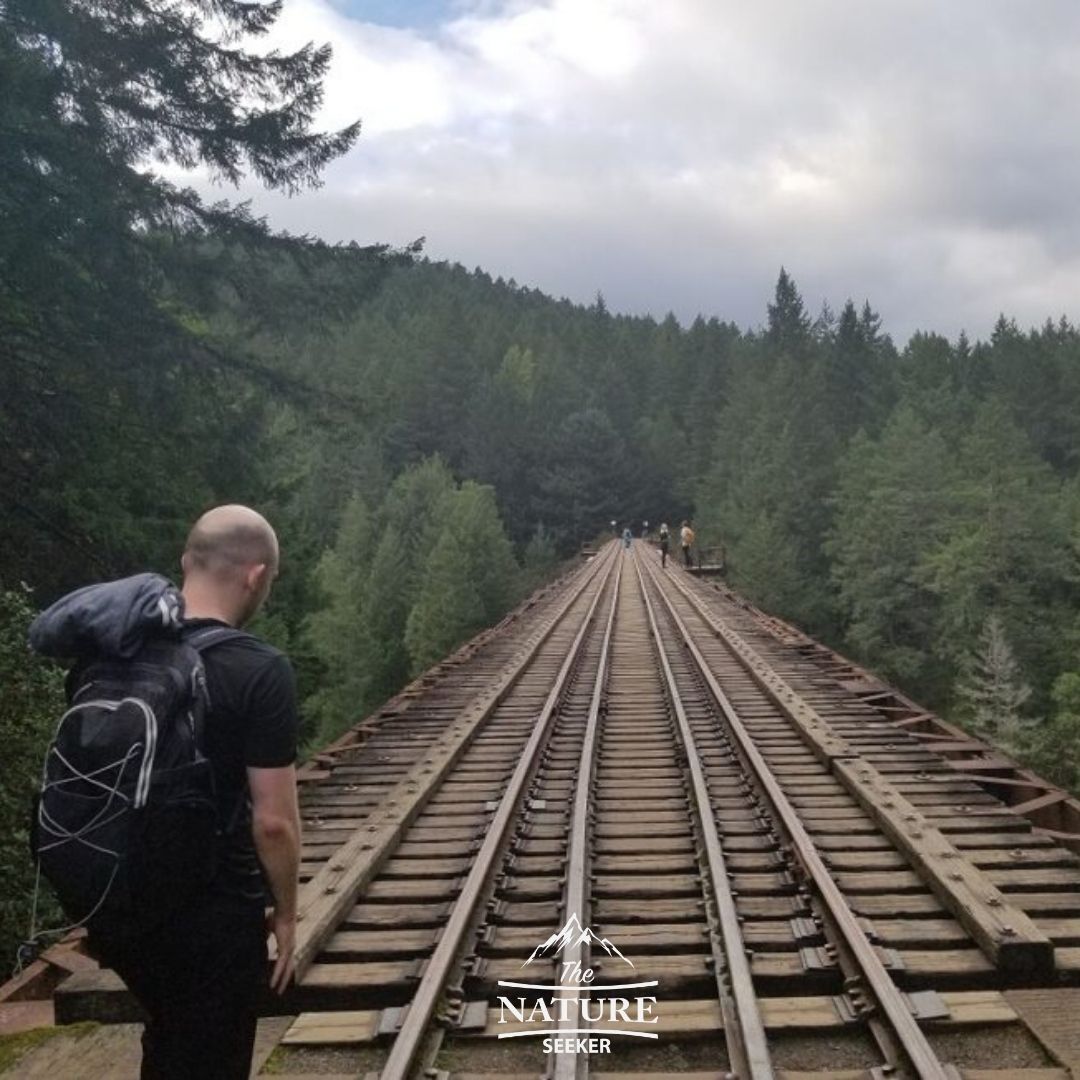 For those who know of Vance Creek Bridge, you may find this looks VERY similar to it, and I'd agree, except it's legal to go HERE and it's way safer!
Note: All of the MAJOR destinations and their locations that I visited in Vancouver Island can be found here.
Continuing on, we had the choice to go and explore north of Vancouver Island, or the southern end.
We elected to go with the southern side because of the notes I had taken on cool places to see and being that the southern area was closer with more destinations found there that I already had on my list, the choice was pretty clear, and south we went.
It took us about an hour to reach the first destination which is called Sandcut Beach, and from there, more amazing places followed.
The most notable were 2 beaches and a waterfall in each and they are Mystic Beach and Sombrio Beach.
First up is Mystic Beach and the waterfall there:
Getting to this area took us about 30 minutes as there was a downhill hike involved, but it was very fun to do.
And with the early morning air surrounding this area, mixed in with the rain forest environment, there was a cool mist the surrounded the forest as we descended onto the beach.
We took our time, but one day I'd like to explore this area while trail running. I think it'll make for a nice adventurous run
Once we got there, we saw this beautiful waterfall and a couple of tents and people exploring it.
I was fortunate enough to get a shot of myself at this waterfall without anyone interrupting it, but it was still nice to see how everyone here really appreciated the nature and all of us enjoyed being part of this experience.
And then we have Sombrio Beach and the epic waterfall there:
This particular falls is actually hidden on Sombrio beach and involves going up a river stream before you reach the gorge/tunnel that takes you there.
The gorge and scenery inside this location is stunning and if it wasn't for the rain or time constraints, I really feel like I could have been there for hours, just being hypnotized by it's beauty and it will do that to you if you go there too.
I've included in instructions on how to find this waterfall should you decide to visit Sombrio Beach in the link above, and I highly recommend you do.
Once we excited Sombrio Beach, we ran into a local who suggested another area that wasn't on my list: Sooke Potholes State Park and it just so happened to be on our way back to Victoria, and with a few extra hours to spare we decided to add an extra stop.
It was an amazing location that sadly we didn't explore as much as we wanted to and while you could swim there and go cliff diving, the weather and water were so cold that we really couldn't do that. And so we decided to skip that part and possibly do it in the future.
After finishing these spots, we returned back to my buddy's house to end the day. And again, the locations and the other spots (including the ones in day 2) are on my Vancouver Island post.
So all in all, we visited these spots on day 2:
Goldstream Park (Niaraga Falls & Trestle).
Sombrio Beach.
Mystic Beach.
Sandcut Beach.
Sooke Potholes Park.
Day 3: Visiting Vancouver, Whistler and more.
On day 3, we had to start heading east. We had a long road ahead of us to reach the Canadian Rockies which was ultimately the main goal of what we wanted to see on our trip through western Canada.
We said goodbye to my buddy in Vancouver Island, took the Ferry and headed to Vancouver city itself. After briefly visiting my relatives there, we would have to travel for at 10 hours to reach Jasper, one of the locations in the Canadian Rockies.
But to reach it, we had 2 paths we could take:
The scenic route, which took us north, then shifted us northeast to Jasper.

Or a route south of it which would also eventually shift us northeast.
Because we were looking for more scenic places anyway and the fact that latter route was likely to have more traffic, we went with the first option and to me, it was a trip down (or up) memory lane.
You see I'd visited Vancouver when I was 15 years old and revisiting some of the original parks I saw was very nostalgic to me.
The first thing we saw was Stanley Park. I don't really have any pictures of it because we just drove through it.
But the second park we saw, which was about 30 minutes from Stanley Park was Whytecliff Park, is amazing, far less crowded, and highly recommended if you're north of Vancouver:
When I first visited Vancouver, this would be the most far north I'd go, but this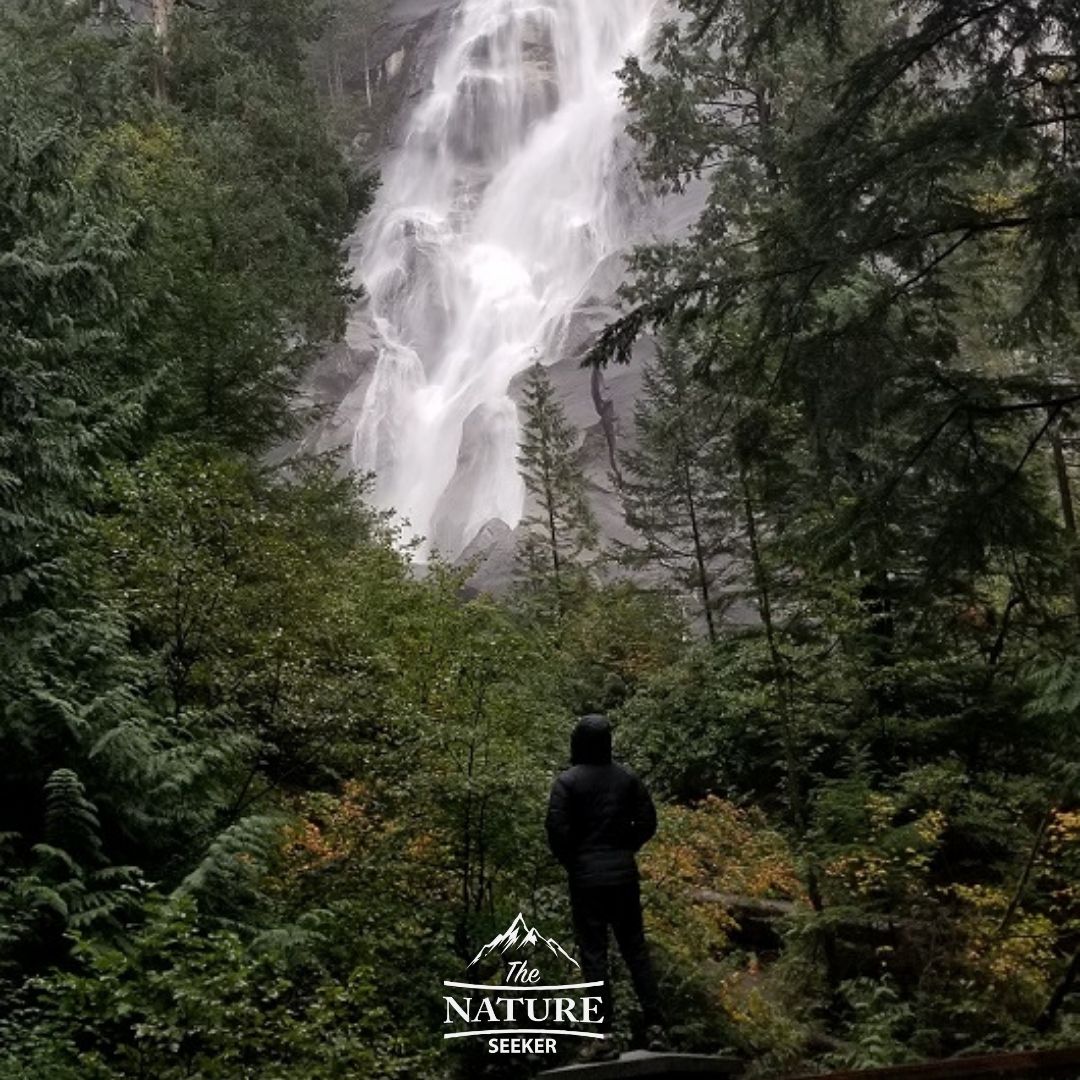 time around, I managed to go way further. Our goal was to cross Whistler, then turn east into Kamloops and call it a night for day 3's trip.
On our way to Whistler, we found what I could only describe as the tallest waterfall I had ever seen in my life:
This is called Shannon Falls:
The great news is that you really can't miss this waterfall if you're driving up to Whistler. It is SO huge and right next to the road that you'll see it easily.
Just be careful if you're driving because when we saw it, our jaws dropped and it was very distracting.
Once this new spot was crossed off the list, shortly after we made it to the town of Whistler, which was in it's off season period.
We didn't have any problem with that.
It is a beautiful town and if you're into skiing and mountain biking, this place will likely pop up as one of the most popular locations on your searches.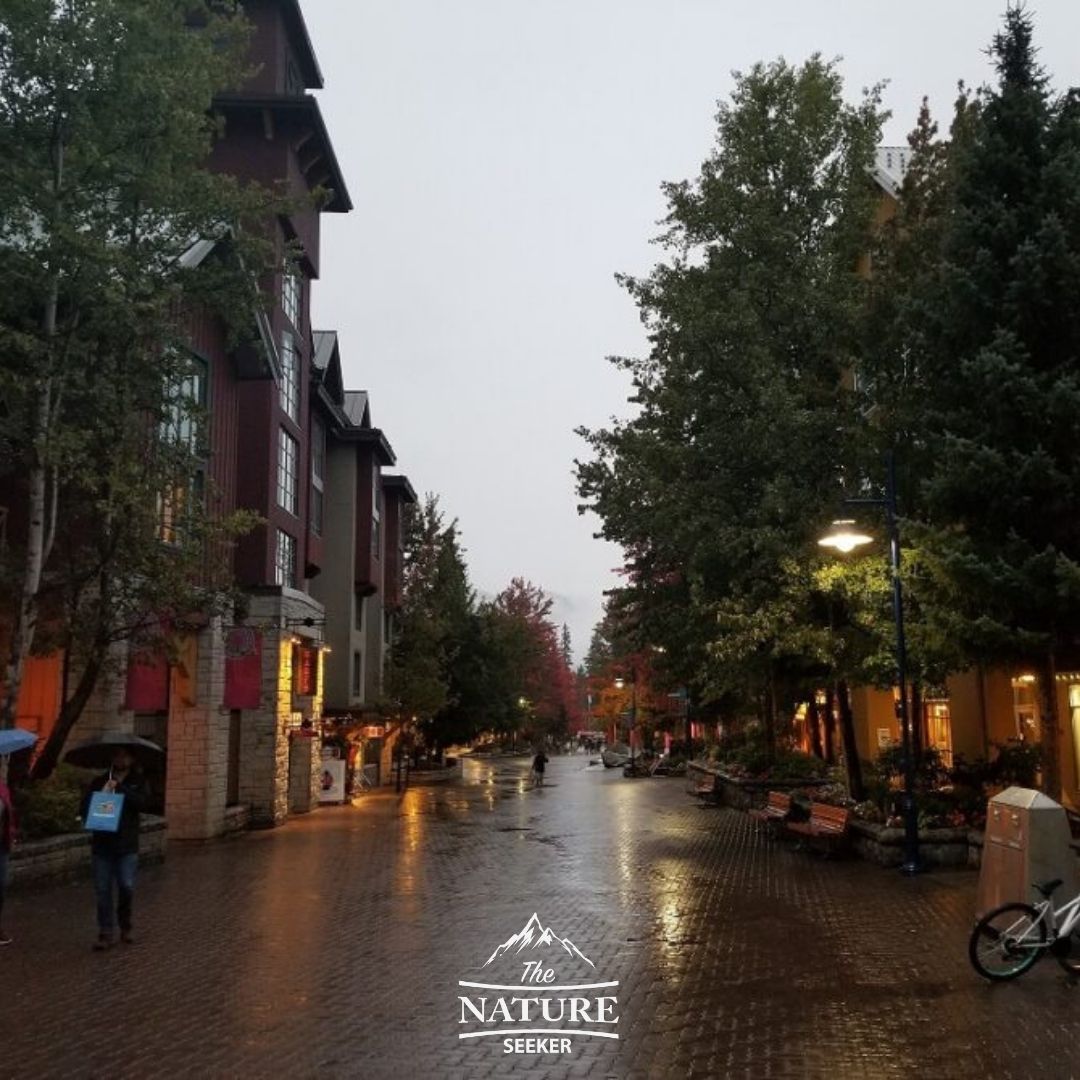 But we couldn't stay long because Kamloops, our main destination that day was 6 hours away and we would have to drive through much of the night, through mountain roads without much civilization.
Before we did, we did have a nice meal at Whistler and took a few photos of it:
So we moved on. We made very few stops, and at around 4 a.m finally reached the town of Kamloops.
If you are wondering why we risked driving through mountain roads through the night, the answer is that we wanted to gain as much ground so we wouldn't have to drive so long the next day and waste time.
After all, we did have 7 days in total to see as much as we could and sometimes making those few extra hours of a drive in the night, saves all those hours the next day as we get to see more. We lose extra sleep, but seeing more makes up for it.
This ended up being a good plan we the next day, it would be around 4 hours before we finally reached Jasper and the Canadian Rockies part of our Western Canada road trip commenced.
Day 4: Entering Jasper & starting the Canadian Rockies:
As usual, we woke up early. The goal was to finally reach Jasper today and explore at least a few spots in this area.
And so we did. After driving for several hours, we finally made it and let me tell you something:

Never in my life have I seen such gigantic mountains.
Sure the drive to Jasper had us passing some large mountains, but they were dwarfs compared to the ones in Jasper: And as you enter the park itself and work your way down to Banff, these kinds of gigantic mountains are everywhere.
And you will see them for 100's of kilometers too as you'll be traveling along the famous Icefields Parkway Road.
Once we made our way into Jasper, we decided that our first destination should be a place called Maligne Canyon.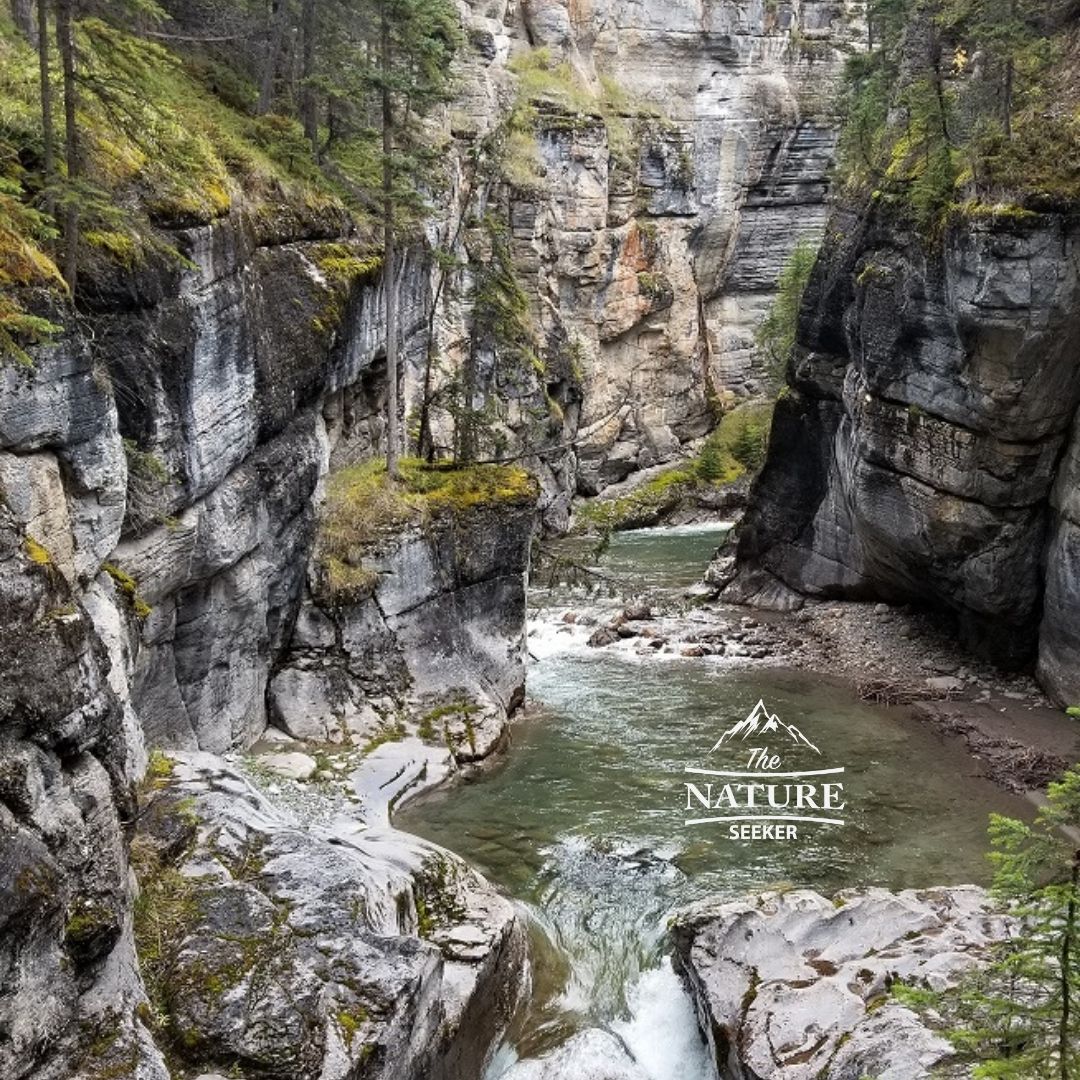 We received a brochure from the ranger at the official entrance and started plotting which points we wanted to see and this was the closest on the list.
And so Maligne Canyon was the first place we saw:
I explain more about spots like these in my Canadian Rockies article, but overall, this particular spot has a scenic trail that takes you down this canyon and you are able to see many beautiful places like the photo to the right.
Maligne Canyon was the first place to introduce us the colorful water that runs across the Canadian Rockies, which is very light blue and it is because of the glaciers which grind against the mountains and cause powder to fall into the water, giving it that light blue color.
You're going to see pictures shortly which show this light blue color I'm talking about A LOT more clearly and I promise you, it is EXACTLY like that if you go to the Canadian Rockies.
There's NO editing in these pictures, they are really like that!
Once Maligne Canyon was complete, we decided to enter the town of Jasper and plan our next moves and that would end up being a gondola ride to the top of a mountain with a restaurant on it.
I couldn't actually find the name of the restaurant name, but it's there, I promise. You just need to take the gondola up to reach it.
I'll tell you this, the views at the top of this mountain are marvelous! Here's just one of the photos we took there:
By the way, while it was by all accounts freezing up there, I had a great jacket on:
This gear has kept me warm in the coldest places I've visited including the Canadian Rockies. But anyway, once the sight seeing was done, and our appetites were up, it was time to eat at the restaurant a top this mountain.
After eating at the restaurant, we made our way back down and had a few more hours to spend exploring nearby areas.
One of the very fortunate things to note about the Canadian Rockies is that there is exists one main road known as the Columbia Icefields Parkway and driving through it will easily give you access to most of the beautiful places in all of the Canadian Rockies and we took that road to find the next destination, which was:
Mount Edith Cavell:
The hike to this spot is very short, and the views are amazing. The only thing is, the air is so thin that you will lose your breath very quickly.
Another thing I'll tell you is that there is an access to get to the small pond formed by the glacier that you see in that photo, but it was closed due to risk of ice falling on you or in the water.
In any case, I found Mount Edith Cavell to be an amazing and very mesmerizing spot that will stay on my mind forever.
And again, my Canadian Rockies article will explain where exactly all of these places are (but they aren't hard to find if you just access them from the Icefields Parkway).
After we explored this spot, we had a little bit more time left and so we decided to go to the next location that was on our list.
And that location was:
Athabasca Falls:
There are a lot of walkways around this region so you won't have any difficulty getting there and taking shots like the one you to see to the right.
Certain spots are technically accessible like getting close to the gorge, but I wouldn't recommend it. You will find plenty of photo ops through the available walkways around this region.
By the time we finished seeing this area, it was getting close to sundown and we had to find a place to stay.
We went back up to the town of Jasper to spend the night while also finding that plenty of elk come out and into the streets during this time as well. So keep this in mind if you plan to walk the streets of Jasper at night and be careful.
We found a hotel which had an outdoor jacuzzi on it's top floor and that was the first I'd ever been in one while outside in the cold. While the weather outside was freezing, that first time experience of being in a hot jacuzzi in that environment was awesome.
After that we called it a night and prepared for our next day's adventure.
Day 5: Southbound to Banff we go: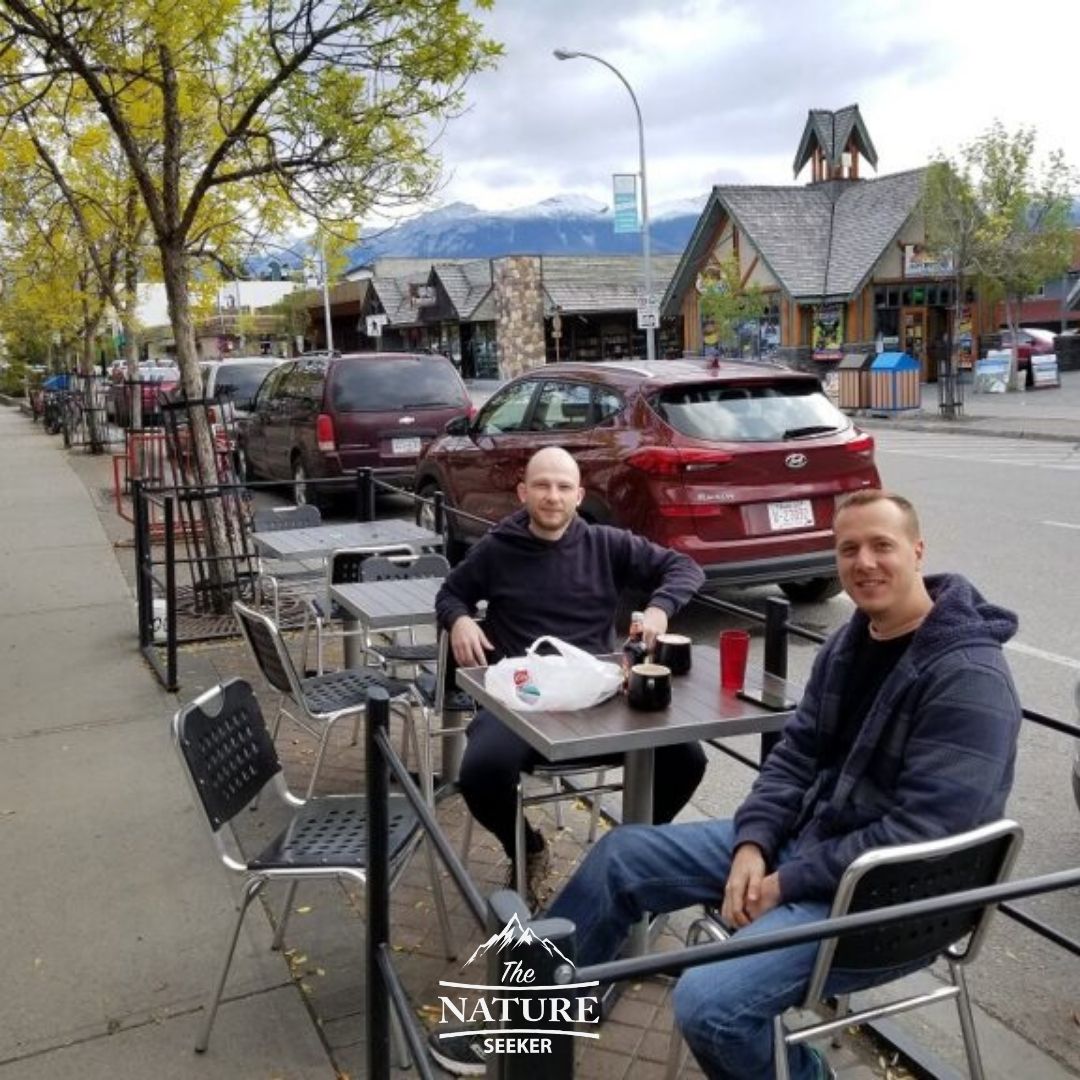 While there were many more places to see in Jasper, we decided to head south to Banff (100+ miles south) and cross off more spots on our list, but not before having breakfast in Jasper itself, and best of all outside:
Once breakfast was done, it was time to start the day and south we went and let me tell you, enjoy the ride along the Icefields Parkway people.
It is amazing to say the least and you will probably want to make a lot of stops (trust me, you should).
We did and never regretted a single one.
But along that drive, we wanted to find more places to explore and the first one that popped up on our list was the following waterfall called Sunawapta Falls.
One of the easiest ways to find the best spots in the Canadian Rockies is just look for the signs to popular spots, and see if there's a lot of cars packed in the parking area.
If there are, guess what? It's a popular spot! That's how I find easy hikes near me all the time.
Sunawapta Falls:
This spot like many others is easily accessible and is usually right off the parking area. In this case, the waterfall and scenic spot was about 50 feet from it.
Now of course, certain areas are gated or railed off to protection because I assure you, not only is this water very cold, but there are also some very powerful rivers and waterfalls, so falling in there is the last thing I would want to do.
We explored Sunawapta Falls for about 30 minutes before heading back to our car and continuing south.
Now this is where I want to pause for a moment on the locations and mention something that I personally found very cool about the Canadian Rockies and something I recommend you do if you go and that is…
Take your time on the road and make frequent stops if you really want to, because there's so much more to see there than the official stops which can often be crowded. 
Sunawapta Falls and many other places I listed and will list in this article are truly beautiful, but sometimes, at least for me, having less or no people is preferable because I get to experience the silence and true nature of the location I'm in.
And that itself is very spiritual to me personally and if you're like this too, then I assure you that you'll benefit greatly from this suggestion I'm giving you which is make frequent stops along the Icefields Parkway.
For example, we randomly stopped at this location on the Icefields Parkway because it was just too beautiful not to:
And there was nobody there. So for anyone who doesn't like crowds, places like this are a must to stop at!
Anyway, we continued south and hit our first major glacier known as:
Athabasca Glacier:
Out of all the spots I saw on my trip, this and Lake Louise (which is coming up) were the most crowded areas.
This glacier is a lot more massive when you see it in real life and there's tours you can take to it.
We personally didn't stay too long because it was VERY cold there and continued south.
Along the way we made a few stops at places whose names I don't even remember, but again, they are all off the main road, so stop anytime you see the name of a place that sounds interesting.
Those are usually the ones with less crowds.
There is one unnamed "secret" location we found and I recommend checking it out:
As we continued driving south, a very large twist in the road came around and we saw a beautiful canyon in the distance with a parking area close to it that was unnamed. And so we decided to stop and check it out.
Here is where you'll find it on the map (again it's unnamed):
The best way to find this spot is by looking for this "knot" type road turn which is the only one of it's kind on the Icefields Parkway. You will see a gorge from that point and will then follow it to the trail to see this beautiful area.
We are very happy we decided to stop there.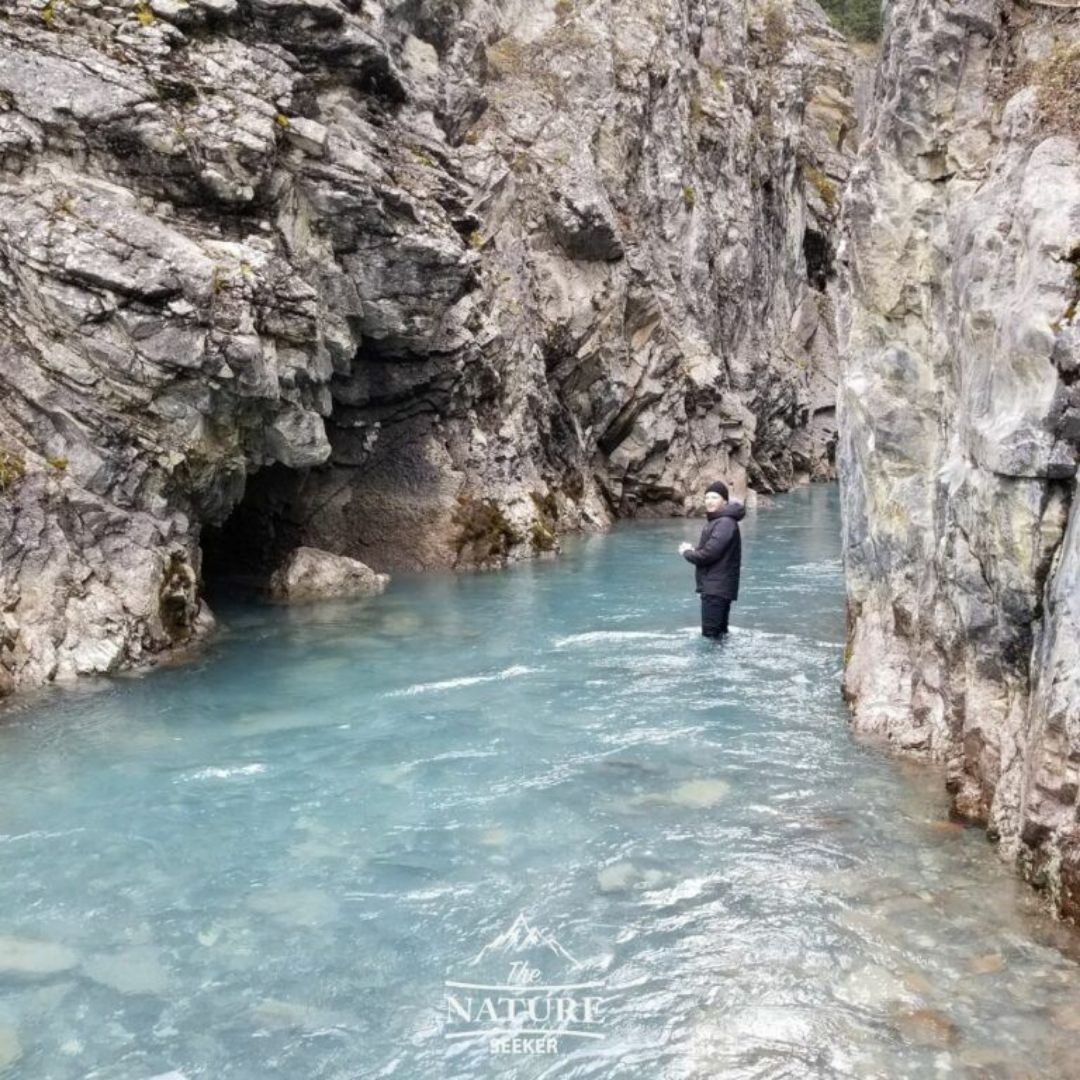 Here is a photo from this place and I even went into the water as well with all my clothes on.
And if you're wondering how I could get into that water without freezing, it's thanks to these types of socks called Showers Pass Waterproof Socks.

And also over the years, I've tried other waterproof socks. I highly recommend you get them on wet and cold hikes.
This was the ultimate test I put them through (so far) and they did great. I was able to stand in that water for as long as I wanted to without freezing. I did feel chilly, but never uncomfortable or anything to want to get out.
Now there is much more to this secret canyon than just the beautiful river you see.
There is a hiking trail to the right of that picture and it is a bit strenuous so if you enjoy hiking, you may find that interested, but if not, I wouldn't do it.
And there's other trails all around this spot too, so you can choose to go where you wish (but of course, keep in mind, it isn't always safe and there is a lot of wildlife here).
You may be able to walk into the river area like I did and even further during warmer seasons. You'll find narrow passageways there and even more beautiful scenery and photogenic opportunities.
So yeah, there's tons of places like this in the Canadian Rockies, so I would keep an eye out as you're driving and not just pay attention to the spots with signs on them. This one didn't have it and look how beautiful it ended up being.
We once again continued south and the next major destination was:
Peyto Lake:
This lake is a popular one you probably will not miss as you drive through the Icefields Parkway, and in our case, we had to park near the road since the parking area was being constructed, so we had to walk for about 20 minutes to reach this spot.
And again, that whole thing about the air being thin is just as present there too. A 20 minute walk, most of which was on concrete may not seem like much, but when you take into consideration just how difficult it is to breath up there, you'll probably get tired after walking for 5 minutes.
The photo you see to the right was taken from a viewing area at Peyto lake that is publicly accessible.
I didn't see any trails down to the actual lake though but I'm sure there's a way down to it. We considered it knowing the strenuous hike it'd take to get there, we decided to just enjoy the view and head back to the car and continue to the next spot.
Next up was Lake Louise (the main jewel of our Western Canada road trip):
Fair warning, this place is crowded because it's one of the most iconic spots you'll see pictures of when you Google the Canadian Rockies.
It's hard to tell it's crowded from that picture, but I assure you, it is.
I had to wait a bit to get the opportunity to take this photo, and I'm glad it came out well.
But this was one of main spots I was truly anxious to see throughout our western Canada Road trip.
In fact, this spot was so memorable that we returned here 2 more times over the remainder of our trip.
And let me tell you it was well worth it because we our trip went on, the weather changed and the look of this place totally changed (as you'll see later).
But this wasn't the only spot we saw in this region.
10 minutes from that is another awesome spot: Moraine Lake.
Recognize that photo?
It's the same one from the top of this article and now you know it's name.
Finding it is easy and once more, the Canadian Rockies article gives you the GPS location, but you can just enter it in and it'll take you there easily.
Hiking, canoeing and restaurants are all available at this lake as well and in some cases, I prefer it over Lake Louise, probably because of there being slightly less crowds there.
After we checked out this lake, a winter storm rolled in and it was starting to get dark.
We decided to find a spot to stay in and went to an awesome restaurant that was constructed over a train station. It's called the Lake Louise Railway Station Restaurant. I highly recommend that spot because it's very beautiful there and the food is awesome! 
After the meal, we decided to go back to Lake Louise when it was dark and just sit near the lake and enjoy the silence. There was NOBODY there and it was VERY peaceful.
Followed by that, we went back to our hotel that was close to Lake Louise and spent the night there. This concluded a VERY active day 5 of our Canadian road trip through the western end.
Day 6: Exploring Yoho and Glacier National Park.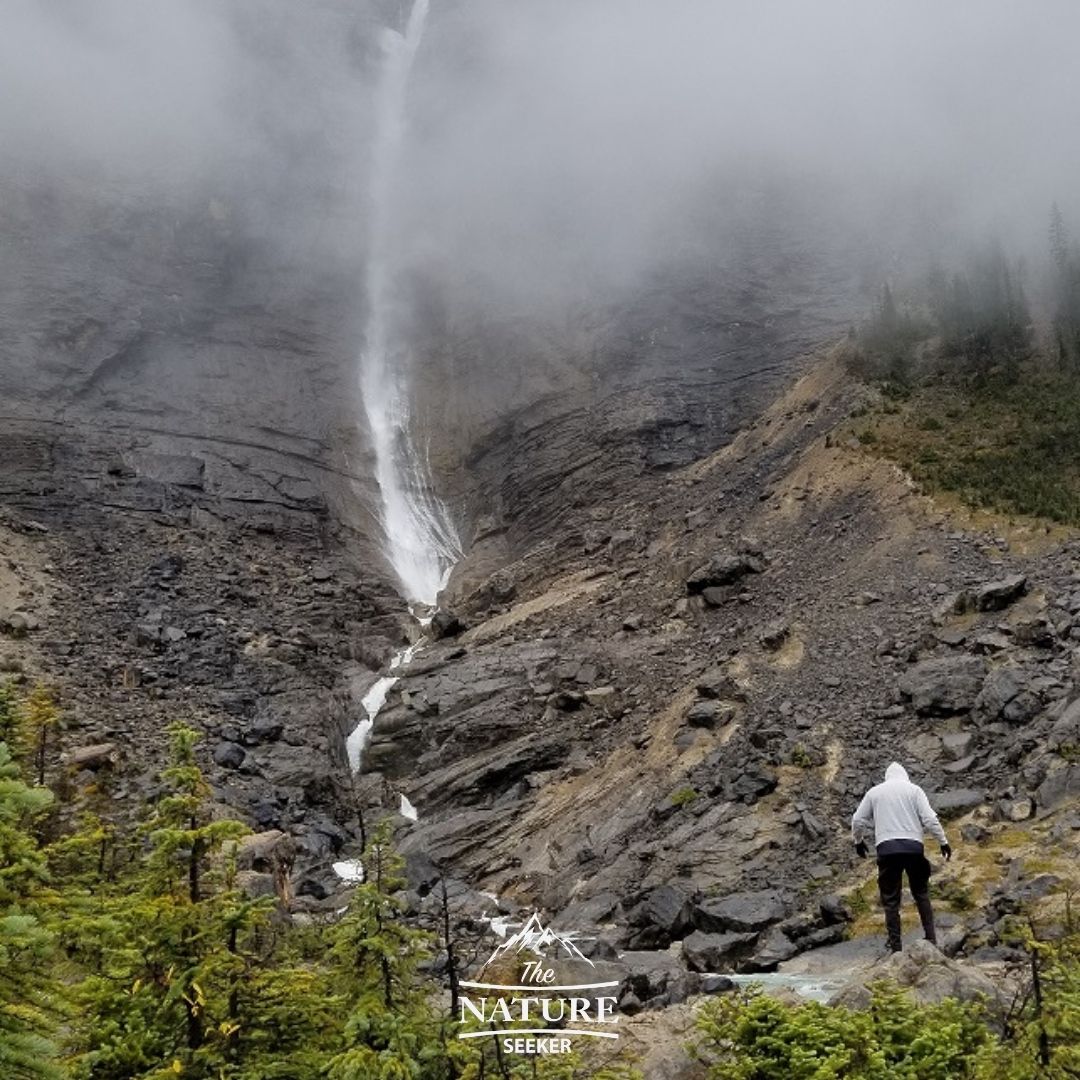 Today presented an interesting dilemma which ultimately ended up being a great opportunity:
You see up until this point, we thought that we would not have enough time to explore so much and because we actually did, this day allowed us to basically explore even more of the Canadian Rockies than we hoped for and of course, we took that chance.
The decision was made to travel south west, into Yoho National Park and then even more south west into Glacier National Park, which would put us back into British Columbia territory and even more west of Canada (no problem for us!). 
The first stop on our trip had us check out the following location:
Takakkaw Falls:
This falls was about an hour away from Lake Louise and it is over 1,000 feet high as well (like Shannon Falls near Vancouver).
There are MANY trails in this particular area, but the main one leads to this very tall waterfall. The walk to it is about 10 minutes from the parking lot and it was a fairly easily hike for us.
There is another falls 5 kilometers from it but we didn't have the time to really check that out. We instead decided to continue west and on the way we found the next destination:
Emerald Lake and Natural Bridges.
These 2 spots very close together and both have large crowds. I don't really have a good picture of natural bridges, and it is a fairly small place, but Emerald Lake to me was just as crowded if not more so than Moraine Lake that we saw on the previous day.
However, in spite of that, I do recommend you check out this lake because of it's color (Emerald) and the fact that there are cool amenities available there such as boating, hiking, lodging and a beautiful restaurant right on the lake which has an awesome chimney and more.
Here is a sample photo of how beautiful Emerald lake is:
This would be the last location of the day where we would officially be in the Canadian Rockies. Shifting even more west now, we would be headed to Glacier National Park.
The drive would take about 2 or so hours before we officially made it into the park. Now compared to the spots in the Canadian Rockies, this park just doesn't have the same feel to it, but it's still beautiful and if you do find yourself traveling from the west side of it and headed into the Canadian Rockies territory, I would stop there.
Here's one of the spots we saw in Glacier National Park:
This particular spot had large trees, sort of like the Redwoods, just not as big, but it very scenic there and like the Icefields Parkway road in the Canadian Rockies where you have 1 main road leading to every major spot, Glacier National Park also has 1 main road which takes you through places like the one you see to the right.
The mountains in this area are also large, but not as large as the ones in Jasper and Banff.
One of the many cool things we found here were many waterfalls flowing down the large mountains you could see as you drove through the park. 
We did a few short hikes in this park before hitting up the nearby town, grabbing sushi, then making our way back east, stopping at a small town for the night.
I don't have too many photos to show you of this park and again, I personally thought that the Canadian Rockies were way more scenic but in all honesty, it's hard to compare any place to the Canadian Rockies after what I saw.
But I'll tell you what, I am very much looking forward to exploring more places to challenge that!
Day 7: Back to Banff and ending at Calgary:
The final day of the road trip was here and we wanted to make the most of it.
We started off by heading back into the Banff area and revisiting Lake Louise, this time with the intent to hike around the lake and see more of it. 
As we were headed there, another winter storm hit and while it was annoying to drive through it, we managed to get to Lake Louise by the time it ended and what it transformed the Lake into was majestic.
Remember that photo above of me standing by Lake Louise?
Well this is what it transformed into after the winter storm hit:
And the hike to the back end of the lake is very simple so you can definitely do that.
There's even more trails behind that to check out if you have more time. Some are easy and others will take you to the very top of this mountain region!

And finally, our final stop would be Johnston Canyon (the cave).
Now originally, I wanted to visit this place for one main reason, and that was to see this place.
It's a cave with a boulder as you see:
Sadly though, we discovered it was off limits and we could only do the trail on top of this area, which we did. Now I want to make something very clear.
This photo you see above is not mine. I legally downloaded it but it's to show some of the magnificence in this area.
The hike to reach this particular cave/boulder is still beautiful and you will see waterfalls and other beautiful spots.
After we'd visited this place, we decided this is where it made sense to call it an end to the day and the remainder of the trip had us travel to Calgary, where the next day would have us fly back to New York.
My personal thoughts on this western Canada Road trip I took:
Folks, these areas I showed you are far more beautiful in real life so if there's any part of you that is thinking of going here, do it. I hope this article inspired you to, because I'm very glad I took the plunge and went here.
I am aiming to one day return and see even more locations and share them with you. At this point however, I am planning another west coast trip very soon and will be detailing that in the future! Thanks for reading about my road trip through western Canada!